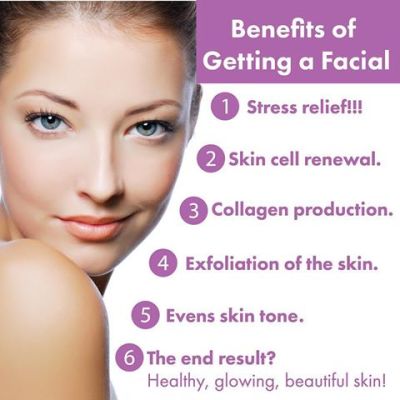 EXPRESS FACIAL  30 MINS $50

Tired of dull skin, but you're aways in a rush? Try our Express Facial. This treatment includes facial cleansing, enzyme exfoliation with steamer, and a mask to hydrate your skin, The eye cream, moisturizer, and sunscreen are applied after a brief  facial massage. These treatments rejuvenate your skin and achieve significant results, in a short period of time! 
​​This is recommended on an as needed basis.
​
RELAXING FACIAL  60 MINS $70

 A customized treatment designed to clarify and rejuvenate your skin, This includes professional cleansing, enzyme exfoliation with steamer, and extractions.

This fully relaxing treatment also includes face, chest, shoulder, scalp, foot, hand and arm massage! Then a hydrating mask, toner, eye cream, moisturizer and sunscreen are applied. Your skin will be refreshed, toned, and will glow nicely!

It is recommended on amonthly basis to maximize your results!

​​​

DERMAPLANING       30 Mins $55

This exfoliation technique removes surface debris with a custom dermaplaning blade. It is a safe procedure to remove dead skin and fine vellus hair too! There is no downtime for this treatment. This will help  increase apsorption of topical products and immediately diminish the appearance of fine lines and wrinkles. It promotes a healthier and more radiant appearance!

It is a very good treament to prep your skin for any other service to acheive maximum results.  It is recommended every 4-6 weeks. 


LIGHT CHEMICAL PEEL 20 Mins $45
                                Add on to facial $30

What is a Light Chemical Peel?
Light chemical peels are also known as glycolic acid peels, AHA chemical peels, or salicylic acid chemical peels. Glycolic acid, an alpha hydroxy acid (AHA) that occurs naturally in sugar cane, is the most common ingredient of light chemical peels. The ingredients and formulation of a light chemical peel, however, depend upon the specific patient's skin care needs. With light chemical peels, the chemical solution is left on the skin for a relatively short amount of time.
When applied to the face or another part of the body, the AHA chemical peel solution works by removing the outer layers of skin so that a new, smooth layer of skin is revealed. The action of the chemical solution stimulates the production of elastin and collagen, essential components of healthy, youthful skin


A chemical peel will be chosen by the Esthetician to meet your skin needs (acne, aged and damaged skin, pigment disorders).  A customized enzyme treatment with steamer and hydrating mask are also applied to help improve your skin's radiance!.
Lactic Peel improves the appearance of fine lines with exfoliation and moisture retentioin.
Glycolic Peel promotes the repair and regenaration of skin to improve the appearance of aging skin.
 
PCA Pumpkin Nutrient Peel 20 mins $65 
                                    Add on to Facial $45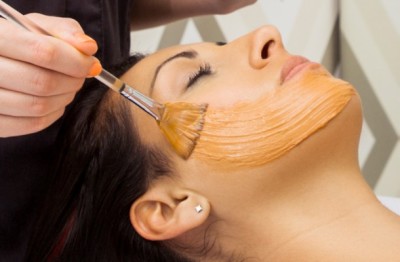 ​​
PCA Professional™ Pumpkin Peel Treatment is a powerful antioxidant treatment that brightens and rejuvenates the skin. Pumpkin contains the highest concentration of salicylic acid of any plant, which provides the Pumpkin Peel Treatment with potent skin smoothing and pore clearing action. The treatment has simultaneous actions; it exfoliates and draws impurities out of the skin while introducing vitamins, enzymes and nutrients into the skin. This is an excellent treatment for smokers as it stimulates circulation, promotes healing and provided vitamin nutrition.
CELLUMA LED LIGHT THERAPY 30 mins $50
                             Add on to other services  $35
​​
Celluma LED Light Therapy provides a powerful and highly effective treatment for inflammatory and non-inflammatory acne. It stimulates greater cellular turnover, improved circulation and lymphatic activity! Additionally, it promotes the growth of new collagen and elastin, which is the "glue" of strong, healthy skin. It has also been observed as a pain reliever!
How does this amazing technology work? The proprietary Celluma light array panel gently rests on the skin in order to deliver Red, Blue, and/or Infrared LED light precisely into the skin, stimulating cellular activity to reduce and control acne outbreaks (both inflammatory and non-inflammatory), reduce the visible symptoms of hyperpigmentation and sun damage, and rebuild your skin's healthy glow from the inside out. The light gently stimulates the production of collagen and elastin, improves circulation, increases lymphatic activity, and promotes cellular turnover and growth. Blue light, in particular, works by targeting the harmful bacteria at the root of many acne breakouts. The result: fresh, smooth, healthy skin that will help you look light years younger!

GREAT NEWS! Contact us if you want to buy your own machine, Hygienic Tree can get you this wonderful machine for a very good price!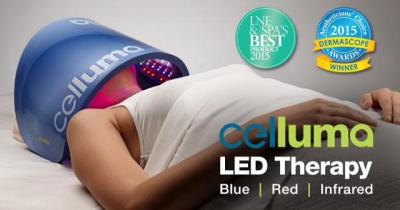 ​​

******All prices and promotions are subject to change without any notice********
​